Stable Electric Power Supply Initiatives
Disaster Prevention Initiatives
So that a constant supply of electricity is delivered to our customers, Chubu Electric Power Grid has strived to construct a disaster-resilient electric power supply system. Here are some examples of our efforts
System for Dispatching Personnel to Support Other Electric Power Companies (Push-Type Support Deployment)
Chubu Electric Power constructed a system so that, when a natural disaster or other such event caused extensive damage, the electric power company that was affected could ask other electric power companies to provide power-generating vehicles and other assistance. This system is still in place, having been transferred to Chubu Electric Power Grid when the transmission and distribution business was spun off.
Furthermore, a total of 10 power transmission and distribution businesses, including Chubu Electric Power, entered into a new agreement in July 2019 to further solidify this system by forming a pact to provide push-type support deployment. This arrangement directs electric power companies in close proximity to a power company that has sustained extensive damage to take the initiative, rather than waiting for a request from the affected electric power company, to construct a support system, mobilize support personnel, equipment and materials to an area near the affected electric power company, and standby. This will enable a quicker response to a request for assistance from the affected electric power company and result in earlier restoration of service.
Strengthening Resilience
In light of recent natural disasters, we established an action plan to improve our responses ti major disasters through the principal issues of "systems for recovery of facilities," "disseminating information to customers," and "collaborating with local government bodies, etc." By steadily implementing these measures, we strengthen our resilience.
Systems for recovery of facilities
= Aim for early recovery by promptly understanding the full extent of the damages and building a recovery system
Disseminating information to customers
= Promptly disseminate information including power outage status and recovery estimates in an easy-to-understand manner
Collaboration with local government bodies, etc.
= Strengthen mutual collaboration with local government bodies and external agencies in preparation for emergencies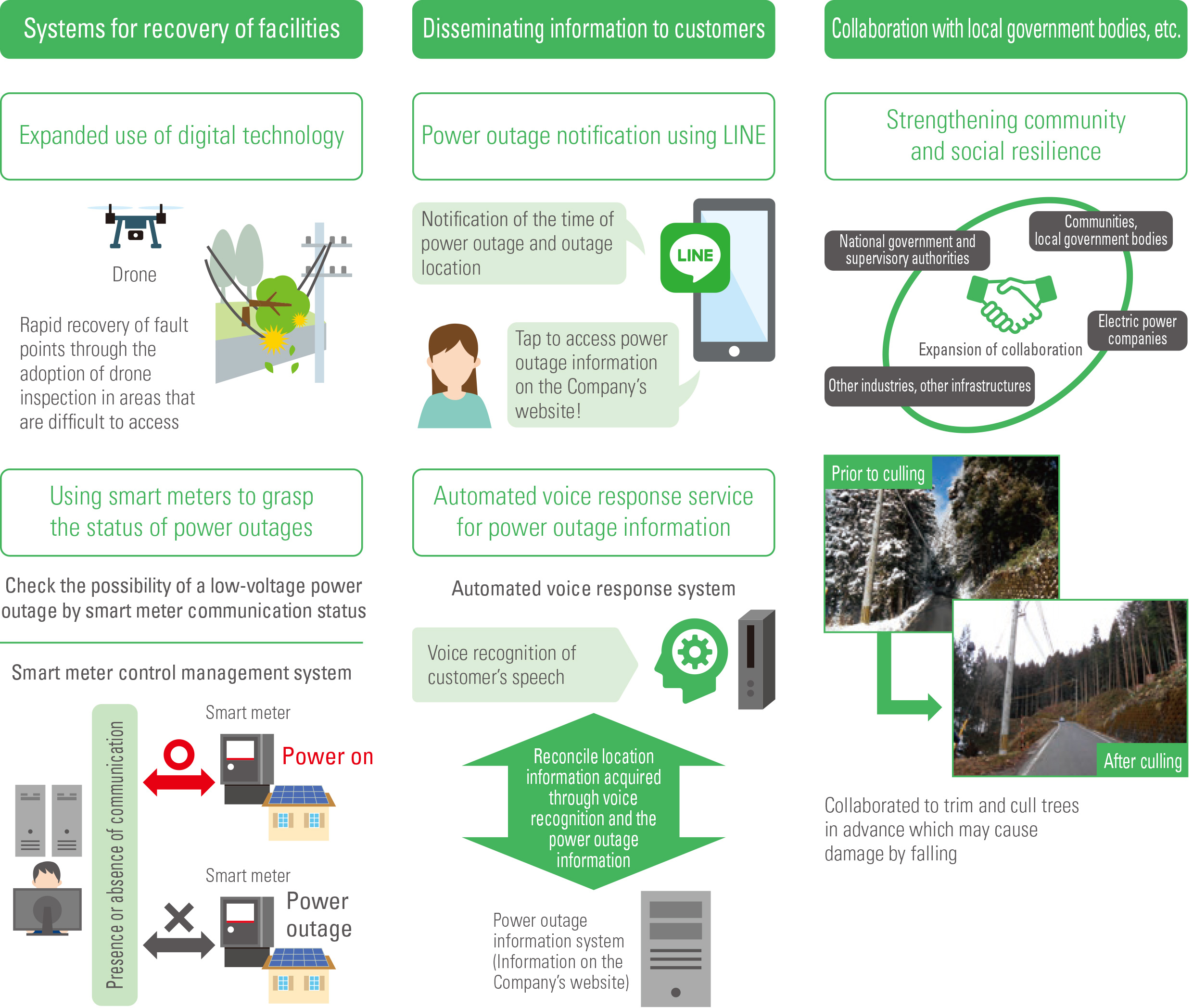 Communicating Information to Customers
Chubu Electric Power Grid has set up a call center which posts information that we wish to communicate to our customers about service interruptions on our website as well as responds to telephone inquiries. In addition to these operations, we have developed a new application "Power Interruption Notice Service," which we have been actively utilizing to disseminate information to our customers.